The Civilian Control Line (CCL) towns of the Korean Peninsula
After the Civilian Control Line was designated in 1954, the CCL towns were formed by moving soldiers and the poor to the area in order to develop unused northern land of the CCL and boost effects of psychological warfare against North Korea. There are ten different towns including 'town of freedom' in Daeseong-dong located in Demilitarized Zone(DMZ) and Tongilchon, Baegyeon-ri, Paju, which is situated in the control area. The number of CCL towns had reached 112 once, but only ten are left as the CCL was moved northward three times. The main industry of the area is agriculture although natural monuments and heritage are used for tourism resources.
As the area was formed by moving people from different regions of the country, there were some cultural conflicts in the early days. As time passed, different cultures have been absorbed to each other, creating a unique culture of the town. As the civilians and soldiers have co-existed in the area, their relationship used to be somewhat vertical, but as the rights of the civilians are acknowledged, it is becoming more horizontal than before.
The CCL towns can be divided into self-reliant, reconstructed, unified and strategic towns according to their purposes. Time, location and members of the towns used to determine the purposes but it is not as valid as before.
1. Freedom Town of Daeseong-dong (Paju-si, Gyeonggi-do)
Economic activities
Rice farming is the primary livelihood of Daeseong-dong residents. Total area of the rice farms is 520,000㎡ and its annual output is 2,250 tons. Residents also cultivate beans, red beans and chili peppers for living.
History
It is the only town located within the DMZ in South Korea. It is only 500 meter away from the Military Demarcation Line to the south. The towns were formed as some of the residents who had evacuated during the Korean War came back. There is a 99.8 meter high flagpole, the tallest flagpole in the country, with a flapping Korean national flag of 18 meter in width and 12 meter in height. 'Kijeong-dong town' of North Korea is only 2km away from the area. It is an anti-ROK propaganda town where a national flag of North Korea is hung on the 158 meter flagpole. The administrative district of Daeseong-dong used to be Josan-ri, Gunnae-myeon, Jangdan-gun before the Korean War broke out. As the administrative district was reorganized in 1962, it has been called Josan-ri, Gunnae-myeon, Paju-si.
Characteristics
Daeseong-dong town was governed by the commander of the United Nations Forces according to the Clause 10 of the Treaty Agreement. The duty to guard Panmunjeom was transferred to the Korean military in the 2000s along with that of Daeseong-dong town management. However, in Daeseong-dong, UN Command rules take precedence. The residents are exempt from tax payment and national defense among four duties of the ROK citizens.
2. Tongilchong, Baegyeon-ri (Paju-si, Gyeonggi-do)
Economic activities
Rice, beans and ginseng produced in the area were called "Jangdan Sambaek" due to fertile soil and clean water and air and they were offered to the King. They were also designated as specialized products of Paju. As Jangdan beans and Paju-Gaeseong ginseng are produced as local products, the town has re-emerged as a town of security and tourism. In November each year, Jangdan Bean Festival and Paju Gaeseong Jinseng Festival are held.
History
When President visited the frontline office of Red Cross in May, 1972, he gave a special order to build a strategic model case of an agricultural town by complementing shortcomings of the reconstructed town. So, it was built in August in 1973 by modeling Kibbutz collective farms of Israel. Forty households of military veterans and another forty households of displaced people had moved in. At that time, about 200ha of land was provided, but as the 'special act on owners' registering unrecovered land for recovery and registering for preservation within the reclaimed area' took into effect, conflicts had occurred between residents of Baegyeon-ri who are cultivators and owners of original land over ownership of the land.
Characteristics
There are national security tourist sites around the area such as Dora Observatory, Underground Tunnel No.3, Panmunjeom and historic sites such as Deokjin Mountain Forest, Deokjindang, Seogokri Ancient Tomb Mural, Dongpari Rock-Carved Buddha and Heo Jun Tomb that are visited by many tourists.
3. Haemaruchon, Dongpa-ri (Paju-si, Gyeonggi-do)
Economic activities
Primary livelihood of the area is field farming where they cultivate ginseng and beans. Residents also grow cucumbers, zucchinis and medicinal herbs for their income.
History
The town was belatedly built according to the sunshine policy under the late Kim Dae-jung administration, Sixty households in total had moved in, including the first generation of displaced people and those whose families or relatives live or had lived in the area. The town was built, as ex-residents came back after they left the area because of the civilian dispersion operation during the Korean War. The town was named 'Dongpari', a sun-rising town. It used to be Donpa-ri, Jindong-myeon, Jangdan-gun but was incorporated into Paju-si after separation of the Korean Peninsula.
Characteristics
Aging is a serious problem in this town because the first generation of displaced people consists of the town. There are historic sites such as Heo Jun Tomb, Gyeongsun Royal Tomb, Doekjin Mountain Forest and four-sided stone Buddha carving in the area.
4. Hoengsan-ri town (Yeoncheon-gun, Gyeonggi-do)
Economic activities
This is the largest production area for Chinese pearl barley in South Korea, accounting for 70 percent. Residents grow Chinese pearl barley by reclaiming slopes of mountains around Imjingang River. They even reclaimed the land near the Southern Limit Line to cultivate Chinese pearl barley, beans and chili peppers.
History
Hoengsan-ri is located in the area where a branch of Imjingan River starts. It was named from Bikkisan in the northern part of the town. It used to belong to Buk-myeon, Yeoncheon-hyeon, and it was incorporated into Jung-myeon in 1914. As it was reclaimed after the Korean War and is close to Southern Limit Line, only farmers with authorized access were allowed to engage in farming in the beginning. Only ten households lived there and did farming in 1977. As the original owners did not come back, displaced people and military veterans mostly moved in. As it was designated to be an administrative district in 1986, 41 households had moved in.
Characteristics
A storm observatory is a famous security tour destination and is located nearby. Construction of Gunnam dam started in 2006 in order to block unauthorized discharge of water from Hwanggang dam of North Korea. As some parts of the town were submerged, some residents had moved out.
5. Yangji-ri town (Cheorwon-gun, Gangwon-do)
Economic Activities
Most residents engage in rice farming, using eco-friendly farming techniques such as duck or freshwater snail farming techniques. Other crops are cultivated only on a small scale.
History
The town was built for developing idle land in the north from the Civilian Control Line where only those with land over 9,917㎡ were entitled to move in. Residents had to cultivate the barren land. As most residents owned their land to cultivate, no serious land conflicts had occurred unlike other neighboring towns. As the Hantangang River runs through in the southern part of the town and there are grand Cheorwon plain around the town, eagles, cranes and some other endangered animals come and hibernate in this area each year. As residents are active in protecting migratory birds through volunteer activities, the town is called "migratory bird town".
Characteristics
Yangji-ri a key habitat for migratory birds as the birds visit every winter. Residents have been building a migratory bird town by protecting the birds through feeding events and others, but cattle sheds were built in the area that were lifted from the Civilian Control Line, causing water contamination and bad odor in the neighborhood. Because of that, Yangji-ri town is also being threatened. As underground tunnel No.2, peace observatory and Labor Party Office are located, security tourism is very active.
6. Igil-ri town (Cheorwon-gun Gangwon-do)
Economic Activities
Cheorwon Odae rice is produced on the Cheorwon field. Cabbages, cucumbers of Beodeulgol, chili peppers of Taeyangcho and glutinous corns of Beodeulgol are also cultivated for income.
History
Igil-ri town got separated from Jeongyeon-ri which used to belong to Pyeonggan-gun before the Korean War, but On October 21, 1954, the administrative authority was transferred to Cheorwon-gun according to Temporary Administrative Measure Act on Reclaimed Districts. It became incorporated into Galmal-eup in 1972 and 60 some households were separated to form the Igil-ri town in 1979. It is also called Beodeulgol town. After the entire town was submerged due to the flood in 1996, some residents had moved northward to a mountain foot and it was renamed as Shinjeongyeon-ri.
Characteristics
The town is operating such programs as trekking of the Military Demarcation Line, farm village experience and migratory bird observation and others. National Folk Museum of Korea and Gangwon Province collectively gathered information on the town for a year in 2013. Photos and writings regarding its history, lifestyles and traditions are exhibited in the town museum. It is called 'a town where cranes fall asleep' because many cranes visit there as well as Yangji-ri town. There are also many crane sculptures in the town.
7. Jangyeon-ri town (Cheorwon-gun, Gangwon-do)
Economic activities
Residents produce clean chili peppers and rice (Odae rice) for their income. There are independent groups of the town such as Jeongyeon chili pepper and Jeongyeon Odae rice cooperative units.
History
It used to be Nam-myeon, Pyeonggang-gun before the Korean War. It was not artificially built unlike other Minbuk town but was built by the residents themselves. Residents who used to live in Hwaji-ri and Ipyeong-ri, Dongsong-eup, Jigyeong-ri and Toseong-ri, Galmal-eup had moved to this area after the Korean War by stages through farming with authorized access. On December 10, 1971, the reconstructured town was built. Sixty buildings were constructed at the junction of Hantanchen Stream and Hwagang River which is upstream of Hantangang River and 120 households had moved in. Farming with authorized access started in the late 1950s and 68 households moved to Igil-ri in 1979.
Characteristics
There were two times of flood damage in 1996 and 1999. There was a railroad left which was directed to Geumgangsan Mountain. Due to the large proportion of senior population, the town has engaged in health & long-life business since 2014.
8. Yugok-ri town (Cheorwon-gun, Gangwon-do)
Economic activities
Residents mostly engage in rice and chili pepper farming. As lots of amount are cultivated in the town, it is called "town of chili peppers" and the product value is well recognized. Tomatoes and paprika are also grown, and beans, perilla oil and cabbage are sold to consumers through package deliveries.
Under the name of Tongilchon, the government had relocated 30 households of civilians and 30 households of soldiers in 1973. People applied to Cheorwan-gun Office for relocation, and the competition rate was 15:1. In the beginning of relocation, each household was given 9,917m² of rice paddy, 9,917m² of field and one cow. Since the Special Measure Act took into effect in 1983, conflicts over land had occurred resulting in a majority of residents paying rent for farming. (because few owned land) Property without owners belonged to the government.
9. Saengchang-ri town (Cheorwon-gun, Gangwon-do)
Economic activities
Residents usually engage in chili pepper farming for their income. Some grow cattle.
History
In 1970, 103 households moved to Saengchang-ri. All were military veterans except for three households of native residents. Thus, the town had a color of reserved forces. In the early days, they engaged in both farming and roles of reserved forces. Reclaiming wasteland was not different from that of other CCL towns, but conflicts over land in Saengchang-ri had a different characteristic. Since the Special Measure Act took into effect, residents started to purchase land from other individuals of the central government. However, problems had occurred in the 2000s when original land owners appeared with the land ownership registered during the Japanese colonial period. In the early days of the Special Measure Act, the central government and individuals arbitrarily registered land and sold the ownership to residents. That resulted in land conflicts. Now most residents are paying rent for farming.
Characteristics
In May 2016, DMZ Peace & Ecological Park was opened. There are two courses: the 13km Cross Tower Course where you can observe DMZ, and a 9km ecological exploration course between Saengchang-ri and Yongyangbo.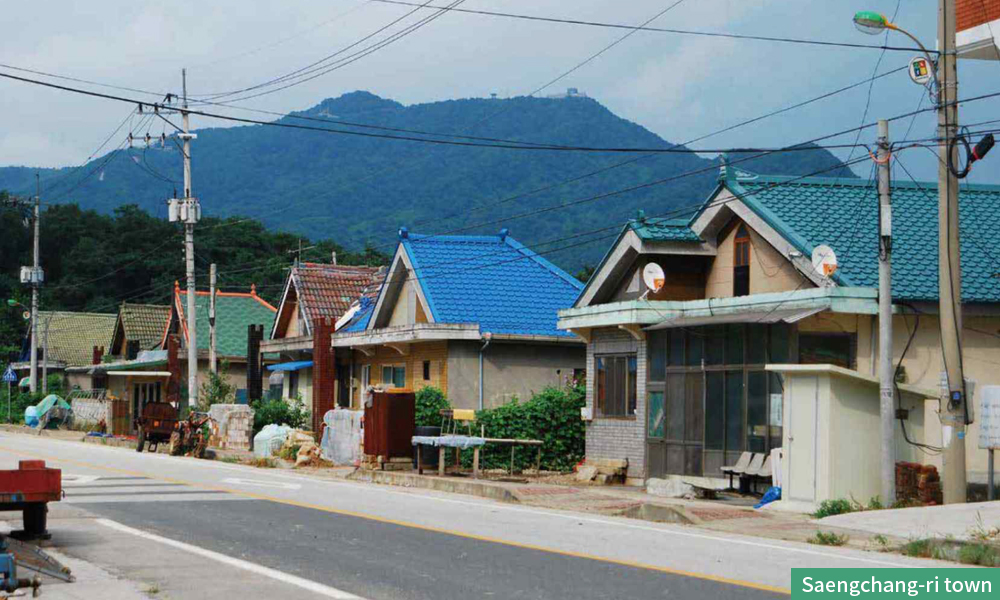 10. Mahyeon 1 ri & 2 ri (Cheorwon-gun, Gangwon-do)
Economic activities
Mahyeon 1 & 2 ri are basin terrain surrounded by Daeseongsan Mountian in the south and Bijobong Peak of Cheonbulsan Mountain in the north. There is sufficient sunshine and there are big differences in day and night temperatures. Because of that, fruits and vegetables with high sugar are produced. Since the 1990s, farming in the vinyl greenhouse has been active. Paprika, tomatoes and chili peppers have been cultivated since the 2000s.
History
Mahyeon 1-ri is the town where residents of Geunnam-myeon, Uljin-gun, Gyeongsangbuk-do (then Gangwon-do) had moved in 1960 after a serious typhoon took their homes away in 1959. It is also called 'Uljin of Cheorwon'. Some say settlers name the town after Geunnam-myeon of Uljin not to forget their hometown which is not true. Unlike Mahyeon 1-ri, Mahyeon 2-ri was built in August 1968 in the purpose of increasing food output by developing idle farmland and forming a northern strategic town of CCL. Sixty households had moved into 30 row house buildings. Residents were discharged soldiers of the military base nearby.
Characteristics
About 20 people out of 884 had experienced landmine accidents in Mahyeon-ri in 2003. There is the Victory Observatory on the hill of Cheonbulsan Mountain where you can view sceneries of separated two Koreas. From the observatory, you can view Geumgangsan Mountatin railroad, Morning Town and other sceneries of North Korea.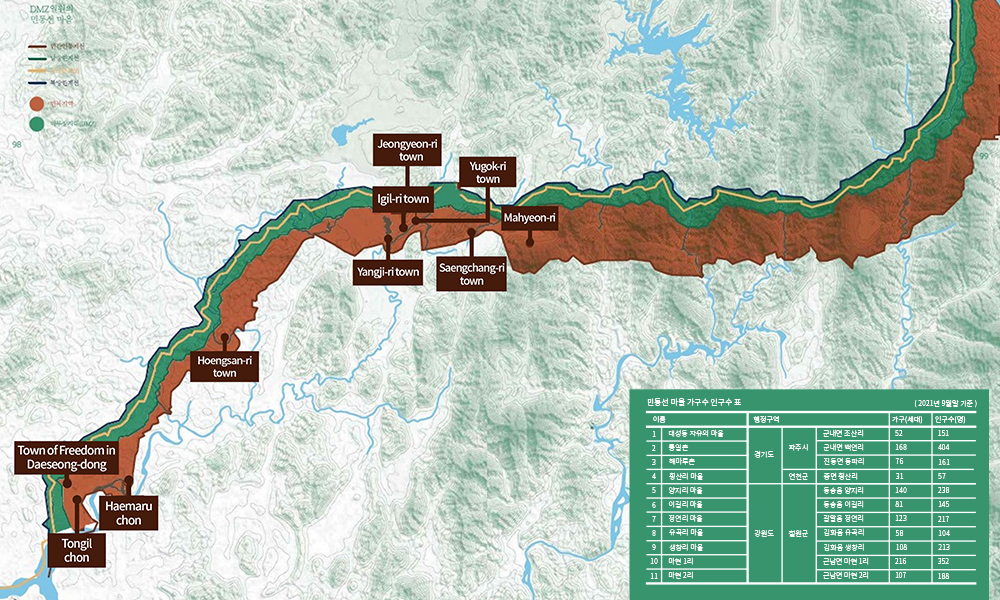 Population composition of Civilian Control Line towns
(As of end of September 2021)
NameAdministrative DistrictsHouseholdPopulation
Population composition of Civilian Control Line towns
1
Town of Freedom in Daeseong-dong
Gyeonggi-do
Paju-si
Josan-ri, Gunnae-myeon
52
151
2
Tongilchon
Baegyeon-ri, Gunnae-myeon
168
404
3
Haemaruchon
Dongpa-ri, Jindong-myeon
76
161
4
Hoengsan-ri town
Yeoncheon-gun
Hoengsan-ri, Jung-myeon
31
57
5
Yangji-ri town
Gangwon-do
Cheorwon-gun
Yangji-ri, Dongsong-eup
140
238
6
Igil-ri town
Igil-ri, Dongsong-eup
81
145
7
Jeongyeon-ri town
Jeongyeon-ri, Galmal-eup
123
217
8
Yugok-ri town
Yugok-ri, Gimhwa-eup
58
104
9
Saengchang-ri town
Saengchang-ri, Gimhwa-eup
108
213
10
Mahyeon 1-ri
Mahyeon 1-ri, Geunnam-myeon
216
352
11
Mahyeon 2-ri
Mahyeon 2-ri, Geunnam-myeon
107
188
※ Source: DMZ for Peace and Life, Korea National Arboretum / Green Korea United, 2018